The Santa Fe Natural Tobacco Company, makers of those cigarettes with an Indian smoking a peace pipe on the box, donated over $50,000 to the American Indian College Fund.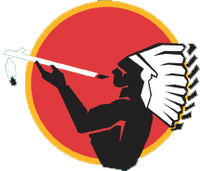 The Santa Fe Natural Tobacco Company Foundation grants financial assistance to organizations that support the preservation, promotion, and advancement of American Indian self-sufficiency and culture in the United States, including programs for the development of American Indian entrepreneurism; facilitating American Indian education (particularly college, graduate, and post-graduate education); and the preservation and enhancement of American Indian languages.
They're also one of the last remaining companies to make perique tobacco; which has a robust flavor since it is partially fermented in oak casks, a process invented by the Choctaw and Chickasaw. The perique tobacco is mixed with regular tobacco because it would otherwise be too harsh. just came out with a new brand of perique called 'Rich Gray' (in a gray box).